Stir-up Sunday with Crazy Jack
Crazy Jack and Great British Chefs are providing you with three tasty treats to try this Sunday, from some of Britain's finest chefs. Check them out here: http://content.greatbritishchefs.com/features/stir-up-sunday-traditions

Sunflower and Pumpkin Seeds now available from Ocado
You can now stock up on our Sunflower and Pumpkin Seeds from Ocado. Great for sweet and savoury dishes!

Crazy Jack goes to incredible lengths to bring you the finest organic food.
A hearty and wholesome mix of lentils, peas, barley and flakes; versatile and nourishing it's perfect for soups, stews and casseroles.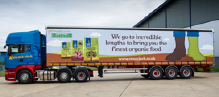 Sign up to our mailing list
for all the latest Crazy Jack
news and events
Win Crazy Jack Organic Goodies!
Send your own recipe using any of our organic products to this email:
competition@crazyjack.co.uk
The Crazy Jack team will pick their favourite each month.
The winner will receive a selection of tasty Crazy Jack Organic goodies, which we will send to you in the post. Get cooking now to win!
*Wicker hamper not included