Spiced Lamb and Lentil Casserole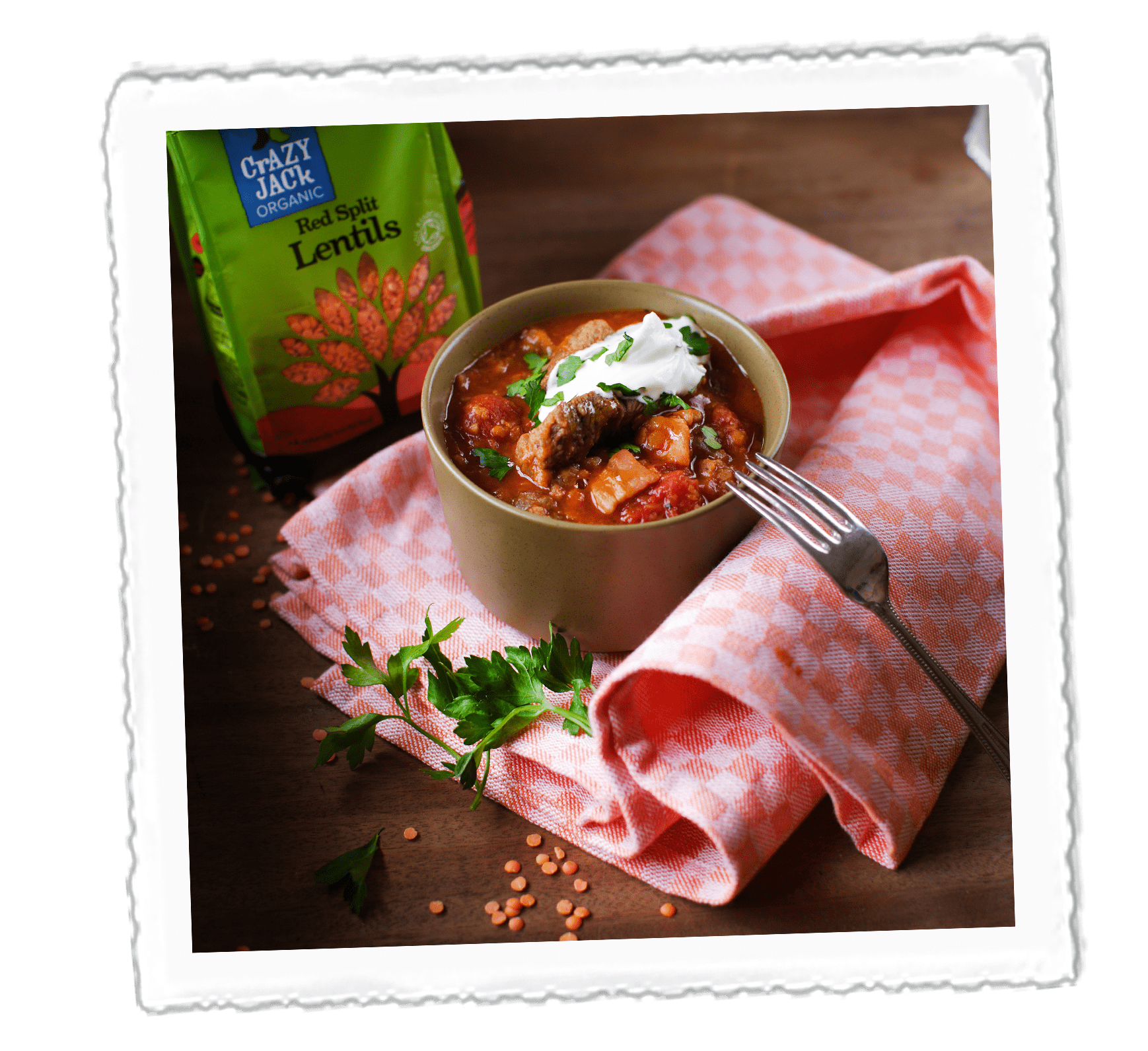 Ingredients:
Ingredients
Serves 2
200g tomatoes
250g Crazy Jack Red Lentils
2tbsp olive oil
1 onion, chopped
3 rashers bacon, chopped
400g lamb neck fillet, diced
Pinch of ground cinnamon
Pinch of cayenne pepper
1 chicken stock cube
75ml boiling water
1tbsp tomato puree
25g pitted black olives, chopped
Sprig of fresh rosemary
2 sprigs of fresh thyme
Salt and pepper to season
1tbsp chopped fresh flatleaf parsley, to serve
Greek yoghurt to serve

Method
1) Blanch the tomatoes in plenty of boiling water, then remove the skin and seeds and chop the remaining flesh. Put to one side.
2) Place the Crazy Jack Lentils in a pan of cold water, bring to boil and simmer for 25 minutes until just tender. Drain and put to one side.
3) Heat half the oil in a frying pan and fry the onion for 2-3 minutes until soft. Add the bacon and lamb and fry for a further 2-3 minutes.
4) Add the spices, crumble in the stock cube, then add the prepared tomatoes, Crazy Jack Lentils, tomato puree, olives and herbs and pour over 75ml of boiling water.
5) Bring the mixture back to the boil, then reduce the heat and simmer for 8-10 minutes. Season to taste.
6) To serve, spoon into two bowls, add a dollop of yoghurt and sprinkle over the chopped parsley.