Easy Pear and Almond Pastries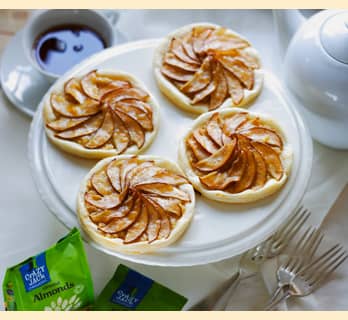 Ingredients:
Serves 8

Ingredients
320g puff pastry
70g Organic Ground Almonds
4 tbsp caster sugar
1 tsp vanilla extract
1 egg white
4 pears, halved and cored
2 tbsp apricot jam
1 tbsp water

Method
1) Preheat the oven to 200°C/ 400°F/ Gas Mark 6 and roll out the puff pastry to 4mm thickness.
2) Use a cutter or bowl to cut the pastry into 8 to 10cm rounds. Place on a baking tray lined with baking parchment, allowing a little space between each round.
3) In a mixing bowl, combine the organic almonds, sugar, vanilla extract and egg white. Spoon one tablespoon of this mixture on to each pastry round, leaving a border around the edge.
4) Thinly slice the pears and arrange on top of the tarts. Bake in the oven for 10 minutes, then reduce the oven temperature to 160°C/ 325°F/ Gas Mark 3 and cook for a further 20 minutes.
5) Warm the apricot jam in a microwave for 20 seconds or so, then thin with a little water and brush over the still hot tarts.
6) Serve hot or cold.