Hot Cross Buns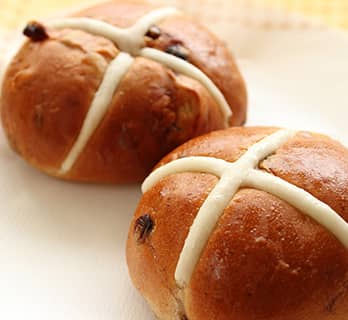 Ingredients:
Try this lovely recipe from ocado.com
Serves 8
Total time required: 30 mins
Preparation time: 15 mins
Cooking time: 15 mins

Ingredients
50g butter (25g for the buns, 25g for the crosses)
280g strong plain flour (225g for the buns, 55g for the crosses)
1 tsp salt
6g fast action dried yeast
40g caster sugar, plus 2 tbsp for the glaze
55g Crazy Jack Organic mixed dried fruit
25g mixed chopped peel
1 tsp Crazy Jack Organic Mixed Spice
150ml semi skimmed milk , plus 1 tbsp for the glaze

Method
1. Start by preheating your oven to 220°C, 425°F or gas mark 7. Then put the butter, sieved flour and salt into a large bowl and rub into a fine breadcrumby mixture.
2. Stir in the yeast, sugar, fruit, peel and spice. Warm the milk until tepid, pour it into the bowl, and mix together into a soft dough.
3. Place the dough onto a floured surface and knead until elastic and no longer sticky. Shape into 8 buns and place them onto a greased baking sheet.
4. Cover them with lightly oiled cling film and leave in a warm place for around 45 minutes, until almost doubled in size.
5. To make the crosses, blend the butter with the flour and 4 tablespoons water. Remove the cling film from the buns and pipe the mixture across them. Pop them in the oven for 15 minutes or until golden brown and cooked through.
6. To make the glaze: Gently warm the sugar and milk together. Brush it over the buns, and pop them back into the oven for another 2 minutes. Leave them to cool on a plate or rack before serving.