Gorgonzola, Fig & Pear Salad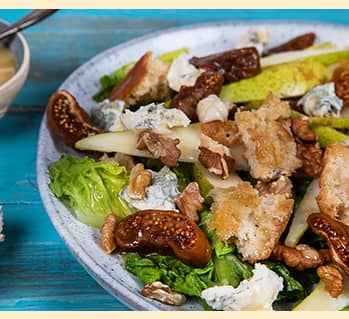 Ingredients:
Prep: 10 minutes
Cook: 8-10 minutes
Serves 2

Ingredients
1 ciabatta roll, torn into bite sized pieces (85g)
1 tbsp olive oil
1 Romaine Heart, leaves torn (200g)
100g Crazy Jack Organic Soft Figs, thickly sliced
50g Crazy Jack Organic Walnut Pieces
1 ripe pear, cored and cut into thin wedges (150g)
100g gorgonzola, cubed
3 tbsp vinaigrette

Method
1) Preheat the oven to 200°C, gas mark 6.
2) Toss the bread in the oil and place on a baking tray. Bake for 8-10 minutes or until golden. Allow to cool.
3) Place the Romaine leaves on a large platter and scatter over the figs, walnuts, pear wedges, gorgonzola and croutons.
4) Drizzle over the dressing to serve.

Crazy Jacks tip...
Try other cheeses such as mozzarella, other blue cheeses or grilled halloumi.