Homemade Falafels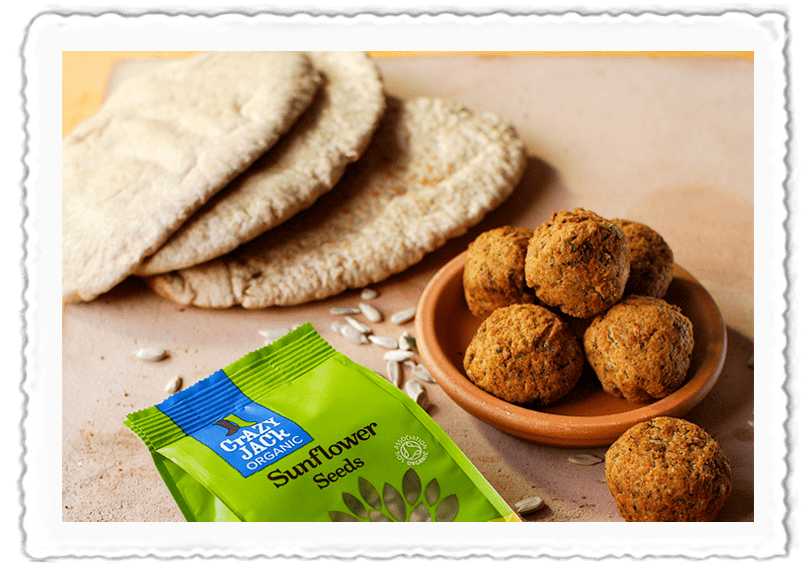 Ingredients:
Serves 4
Ingredients
2tsp cumin seeds
2tsp coriander seeds
2tsp Crazy Jack Pumpkin seeds
2tsp Crazy Jack Sunflower seeds
2x400g tins chickpeas, rinsed and drained
Salt and pepper
1 and a half teaspoons of baking powder
2tbsp plain flour
1 red chilli, deseeded and chopped
1 garlic clove, crushed
3tsp fresh flatleaf parsley, chopped
1 lemon, zest only
Vegetable oil, for frying

Method
1) Dry fry the cumin, coriander and Crazy Jack seeds in a frying pan until fragrant. Grind in a pestle and mortar, then place in a food processor with the chickpeas, salt and pepper, baking powder, flour, chilli, garlic, parsley and lemon zest. Pulse to combine.
2) Mould the mixture into about 24 small balls.
3) Heat a little vegetable oil in a frying pan and fry the falafel, in batches, for about 3 minutes. Turn as you cook so that they colour evenly. Remove when golden and drain on kitchen paper.
4) Serve the warm falafels with toasted pitta bread and a salad.