Organic Blueberry Pancakes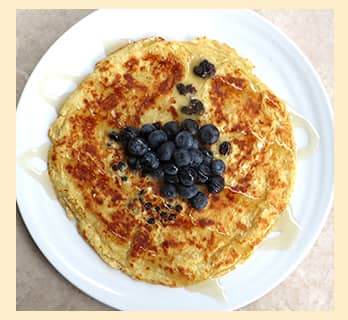 Ingredients:
Ingredients
Makes 4 Pancakes
100g Organic Plain Flour
2 Organic Large Eggs
300ml Organic Semi-Skimmed Milk
3 desert spoons Crazy Jack Organic Blueberries
2 desert spoons Crazy Jack Organic Desiccated Coconut
1 tbsp Sunflower Oil
Pinch Salt
Fresh Organic Blueberries
Organic Golden Syrup

Method
1) Put the flour, eggs, milk and a pinch of salt into a medium sized mixing bowl. Whisk the mixture together to make a smooth batter.
2) Add the Crazy Jack Organic Blueberries and the Crazy Jack Organic Desiccated Coconut to the batter and whisk it in.
3) Add the Sunflower Oil to the bottom of a medium frying pan and using a piece of kitchen towel, wipe across the bottom of the pan so it is well covered.
4) Set the frying pan over a medium heat and when hot, add some of the batter to the pan, tilting it to move the mixture around for a thin and even layer.
5) Cook each side of the pancake for a minute, so that it is golden on each side.
6) Serve your pancakes with some fresh Organic Blueberries and some Organic Golden Syrup.