Mixed fruit & oat scones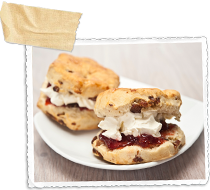 Ingredients:


225g self raising flour
170g porridge oats
100g Crazy Jack Organic mixed fruit
50g caster sugar
1 egg, beaten
110g butter, melted
75ml milk

Method
1) Preheat oven to 220°C, Gas Mark 7.
2) In a large bowl, mix the flour, oats, sugar, and mixed fruit. Make a well in the centre.
3) In a small bowl, beat the egg until frothy, and stir in the melted butter and milk. Pour into the well and mix to create a soft dough.
4) Pat the dough out until it is 1 inch thick – no need for a rolling pin!
5) Press out 15 circles using a scone cutter and place on a lightly greased baking tray.
6) Bake for 10 minutes – the scones will be a golden colour on the bottom when they are cooked.
7) Serve warm with clotted cream and jam!