Jack's multi-seed snaps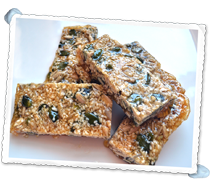 Ingredients:
250g Crazy Jack Organic Sesame Seeds
50g Crazy Jack Organic Sunflower Seeds
50g Crazy Jack Organic Pumpkin Seeds
330g Golden Caster Sugar
160g Organic Honey
2 Tablespoons Water

Method
1) Grease and line a 25cm x 30cm baking tray.
2) In a bowl mix the seeds together.
3) In a medium saucepan combine the sugar, honey and water over a low heat and stir until the sugar dissolves. Using a wet pastry brush, brush down the sugar crystals from the side of the saucepan.
4) Once the sugar is dissolved, bring to the boil and cook until the sugar reaches 150°C. If you don't have a sugar thermometer, when a teaspoon of sugar mixture is dropped into a glass of cold water it forms a piece of toffee that when snapped breaks with a 'hard crack'.
5) Remove from heat, stir in the seeds and quickly pour onto the prepared tray, spreading out the mixture with an oiled spatula. Cool completely before breaking into pieces.