Daikon Curry with Lentils and Coconut Rice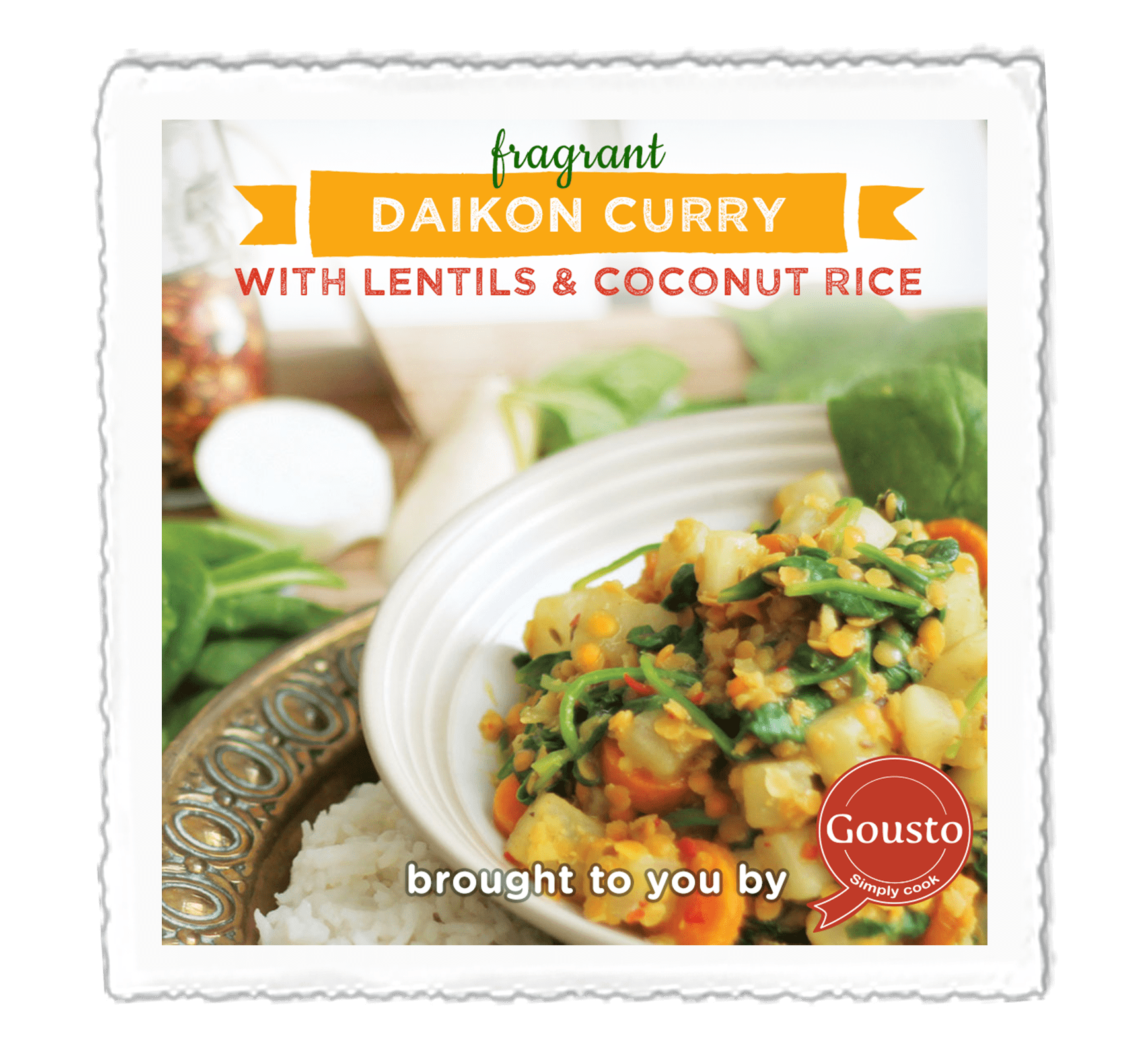 Ingredients:
Serves 2
300g daikon
155g basmati rice
200ml coconut milk
100g Crazy Jack red lentils
100g carrot
1 red chilli
1 vegetable stock cube
1 tsp curry powder
15g fresh ginger
100g baby leaf spinach
1tsp cumin seeds
Salt and pepper
Vegetable oil

Method
1) Rinse the lentils
2) Peel the ginger, remove the stem and seeds from the chilli and chop both finely.
3) Peel the carrot and cut into thin slices
4) Peel the daikon and cut into 1cm cubes
5) Add the coconut milk, 200ml water, rice and a pinch of salt to a saucepan and bring to a boil. Once boiling, reduce the heat and simmer gently with the lid on for 15-20mins or until all the water has been absorbed.
6) Meanwhile add 1-2tbsp of vegetable oil to a pan on a high heat; and once hot add the ginger, chilli and cumin seeds; cooking for 1 minute, stirring constantly.
7) Add the carrot and daikon to the pan and cook for 2 minutes.
8) Add enough boiling water to the pan to just cover the vegetables and reduce the heat to simmer for 5 minutes, stirring regularly.
9) Crumble the stock cube over the pan and stir to dissolve.
10) Add the lentils and simmer for 5 minutes, stirring regularly
11) Add the curry powder to the pan and stir through
12) Check that the daikon and lentils are tender. If not add a bit more water and cook for a little longer.
13) Add the spinach, stir through and cook for 1 minute or until wilted.
14) Add 1-2tbsp of water of the curry is too dry.
15) Serve with coconut rice and enjoy!