Whether it's melt-in-the-mouth mince pies or deliciously sweet stollen, why not go organic this Christmas and choose ingredients which don't contain any preservatives*. Ideal for all your seasonal bakes, our organic range includes a selection of dried mixed fruit, including sultanas, raisins and apricots, as well as flaked almonds, walnut pieces and desiccated coconut. Here are our top tips for baking organic this Christmas:
Christmas Cakes…
If you are a traditionalist at Christmas the sweet flavours of our organic dried mixed fruit will ensure your Christmas cake is rich, dark and succulent – just like out our own fruit-filled Christmas Cake recipe .
A taste of Italy…
For the adventurous, why not bring the flavours of Italy to your festive feast with a Panettone? Candied peel and sun-dried raisins give the light, fluffy cake a delicious sweetness.
Christmas Puddings & Mince Pies…
Traditional dried apricots can be used to compliment a booze-soaked Christmas pudding, whilst mince pies wouldn't be the same without the deep, juicy flavours of sultanas. We love our organic mincemeat, which will help to ensure you never run out of these festive favourites during the holidays!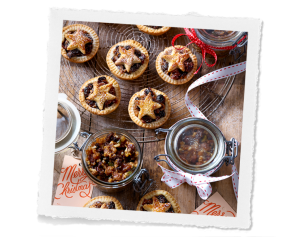 Yule love these tips…
And don't forget the nuts too. Walnut pieces give Chocolate Yule Logs added crunch, smother your stollen with flaked almonds for extra flair, or make some coconut snowball cookies with the kids, that will be perfect for the Christmas cookie tray
Whatever you decide to bake this Christmas, dried mixed fruit and nuts are a great way to inject life and flavour and give your dishes a boost that is guaranteed to impress your guests.
*Sourced from farmers all over the world, Crazy Jack Organic products never contain preservatives and are grown as nature intended.